Pi公司的余氯分析仪被用于许多需要在线测量和控制余氯水平的应用中。适用于饮用水、海水、工艺用水、游泳池、废水、食品清洗、造纸、纸浆等行业的总余氯或游离余氯的监测和控制。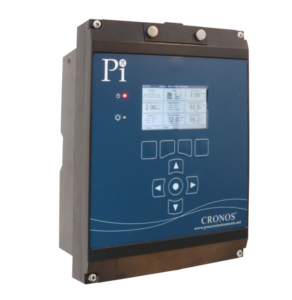 余氯分析仪
HaloSense系列传感器可选:
在线余氯 0.005-2ppm, 0.05-5ppm, 0.05-10ppm, 0.05-20ppm, 0.5-200ppm
在线余总氯 0.005-0.5ppm, 0.005-2ppm, 0.05-5ppm, 0.05-10ppm, 0.05-20ppm
在线海水余氯(余溴或总溴) 0.005-2ppm, 0.05-5ppm, 0.05-10ppm, 0.05-20ppm
在线零余氯 (用来测量余氯有时为0的工况) 0.005-2ppm

用于碳滤后和RO前监测。
HaloSense系列的控制器意味着您可以得到您想要的,而不是您不想要的。从一个低成本的简单的加氯控制器(CRONOS®)到一个复杂的彩屏的具备远程访问功能的控制器(CRIUS®),再加上同样卓越的传感器,加氯控制比以前更简单、更便宜! 这两种控制器都可以连接多个不同类型的传感器,帮助您节省成本。
工作原理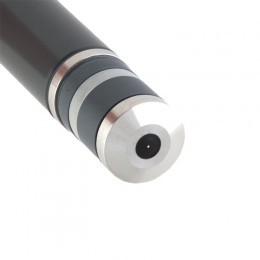 Free Chlorine Analyser
膜法安培传感器采用了第三电极即参比电极,消除了零点漂移(注:这种余氯传感器通常被称为极谱传感器,虽然极谱这个词在这里被误用了)。其独特的设计意味着通常根本不需要pH补偿,完全不需要试剂。
这种余氯传感器在很大程度上与pH值无关,这意味着测量是无需缓冲剂或其他试剂的。它们是安培传感器,显示出非凡的灵敏度和稳定性。对于那些需要测量高pH值(>pH 8.5)的pH可变的水体,可以通过连接到控制器的pH传感器或外部的pH计提供pH补偿。
传感器的工作原理是通过膜将执行测量的电极与样液分开。该膜允许游离余氯(HOCl和OCl–)或总余氯(HOCl和OCl– 加上氯胺)通过该膜。在传感器内部,溶解的氯与低pH值的电解液相遇,将大部分的OCl–转化为HOCl。HOCl在金的工作电极上被消耗,产生的电流与氯的存在成比例,仪器给出的读数为ppm或mg/l。
该技术是最先进的余氯连续测量方法,有很多优点,包括非常稳定的在线测量和更好的加氯控制。
HaloSense系列传感器是无需缓冲剂和试剂的。这意味着它的使用成本很低、维护间隔较长(平均1年)。对于那些想要以最好的价格买到最好的仪器的工程师来说,HaloSense正迅速成为他们的首选。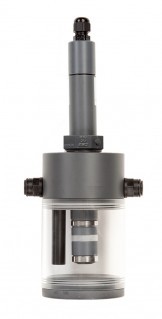 封闭式流通池和余氯传感器
采购成本低
拥有成本低
减少对pH值的依赖(很大程度上与pH值无关)
稳定可靠
无需缓冲剂
无需试剂
许多水务公司需要测量余氯含量,但不想用需要使用化学缓冲液的传统测量方法。醋酸盐和磷酸盐缓冲液既昂贵又不环保。缓冲剂输送系统需要大量维护,耗材相当昂贵。在处理酸的过程中需要考虑健康和安全问题,如果酸处理过的水无法回流到供水系统,则处理成本很高。
安培法和大多数极谱法传感器只对次氯酸(HOCl)有反应。HOCl会根据pH值的高低分解成次氯酸根(OCl–)。这就是为什么大多数余氯分析仪都需要酸性缓冲剂的原因。多数水厂典型的pH值为7至9.2。酸性缓冲剂pH降低到5到6之间,以确保大多数余氯以HOCl的形式存在(见下图)。
HaloSense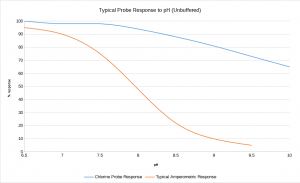 HaloSense余氯传感器测量所有的HOCl和大多数的OCl– (图上的蓝线)。这大大降低了pH值的影响,意味着在大多数余氯监测应用下,不需要缓冲剂和pH值补偿。
Pi公司的余氯分析仪参加中国的展会
需要针对您的应用的帮助吗? 请点击这里!
持续在线监测任何水样中的余氯
水处理氯投加控制
二次消毒氯投加控制
管网监测
冷却塔监控
巴氏杀菌投加控制
海水氯化控制
海水中溴的监测
食品洗涤
氯胺消毒控制
HaloSense系列余氯传感器特别适合在可靠性和易用性要求高的场合工作。
世界上最好的余氯分析仪?
CRONOS® HaloSense-可能是世界上最好的余氯分析仪。
CRONOS® HaloSense是世界上最好的余氯分析仪吗?
这完全取决于你所说的"最好"是什么意思,但它必然是一个强有力的竞争者。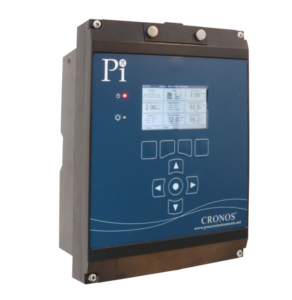 CRONOS® HaloSense 余氯分析仪
我们需要怎样的一台余氯分析仪?
独特性
低漂移(高精度)
维护量少维护费用低)
维护间隔时间长
校准间隔时间长
每一家销售总氯或游离氯分析仪的公司都会声称自己的产品具有这些特性,但他们做过研究吗?
2009年,一位客户从Pi购买了334台余氯分析仪,用于饮用水氯化控制(64台)和管网监测(270台)。他们在市场上试用了一年的其他系列的分析仪后,才向我们购买了这些传感器。2012年,他们对安装的30台余氯分析仪进行了第二次试验,以证明他们节约的成本。
这些分析仪一直有效地运行,直到它们在没有重新校准和维护的情况下出现故障。这项研究的结果是,HaloSense可以
"在90天没有任何操作员或技术干预(如无校准及维护)的情况下,读数漂移保持在10%以内。"
这是否使得CRONOS®HaloSense成为世界上最好的余氯分析仪?也许是吧,加上在线控制选项, 其对pH值的适应性,其对游离氯和总氯的适应性,其通讯能力和非常低的成本,这可能是世界上"最佳"的余氯分析仪。
如需更多信息,请与我们联系。
管网余氯监测
Version 2 Chlorine Analyser in Distribution Monitoring Application
在水厂内对饮用水进行处理和消毒只是确保饮用水安全到达水龙头的部分工作。在长距离的管网中,有必要对余氯进行监控。有时还需要一个小型的二次氯化装置,以保证直到水龙头出口的管网中含有一定的余氯。
由于其性质,二次氯化厂通常无人管理,而且位于偏远、难以到达的地点。由于这些原因,氯仪表/氯控制器/氯分析仪应该具有以下优点:
最多一年的维护周期
校准间隔3个月
不受管网中pH值变化的影响
低成本
无需缓冲液或试剂
2012/2013年,在爱尔兰对Pi的余氯分析仪(HaloSense)进行了大量测试,结果表明,HaloSense实现了上述所有要求,并在一个非常苛刻的应用中得到了证明。点击这里联系我们以获得更多关于余氯测量的信息。
当自来水公司购买余氯分析仪来监测供水系统中的余氯时,他们真正想要的是什么?
他们最想要的是三样东西。
1) 简单
没有试剂
没有特殊的样品处理要求
安装面积小
单点校准
2) 可靠
可接受的校准和维护之间的漂移
校准周期最多3个月
维护周期最多6个月
3) 成本效益
资金成本低
安装成本低
调试成本低
拥有成本低
长达三个月完全无人值守!
世界各地的客户做过与其他分析仪并排的测试,在大多数情况下,他们发现Pi的HaloSense传感器提供了最简单、可靠和低成本的解决方案。
小型水处理应用下对余氯、pH和浊度的监测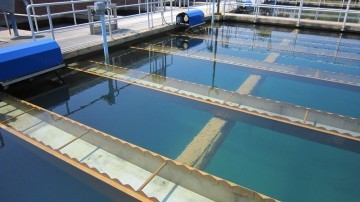 无论在世界的哪个角落,小型水处理厂、二次消毒厂等都容易出现类似的问题。首先是缺乏SCADA等通信基础设施,安装这些基础设施的成本可能高得令人望而却步。其次是缺乏DCS中央控制基础设施,安装这些基础设施的成本也可能高得令人望而却步。三是位置偏远。这些水处理厂通常位于偏远地区,很难到达。
WPi可以为世界各地的工程师提供一个低成本的解决方案。CRIUS®控制器具有小型SCADA的机载能力,并提供全在线PID控制,帮助实现长期频繁地操作传感器(如余氯、pH、浊度等),而无需操作员过多干预。
要演示CRIUS®的远程访问能力 请点击这里。
要获取CRIUS®的控制方面的能力 请点击这里。
要了解更多关于其他客户在类似的应用中使用CRIUS®多参数控制器的案例,为什么不联系我们?
用于瓶类生产巴氏消毒的连续氯化/溴化
巴氏灭菌器及其消毒控制对在线仪器造成了特殊的问题。大多数在线仪器需要一个连续的样品,而巴氏灭菌器通常根据需要开关。
此外,巴氏灭菌器内的介质不像饮用水那样温和,通常有较高的温度和波动的pH值,并含有洗涤剂。
Pi一直与一些家喻户晓的公司合作,为这些问题提供一揽子解决方案。现在已经在英国的苹果酒和啤酒灌装厂安装了几个解决方案。传感器安装在一个具有双重用途的自动冲洗装置 内,它不仅能保持传感器的清洁,而且在不检测的过程中还能保持传感器的湿润。
Pi的消毒控制系统还提供远程访问、电子邮件警报、文本警报和全PID控制,适用于氯、溴、臭氧和二氧化氯消毒。
为什么不联系我们,看看我们可以做什么来帮助到您的巴氏杀菌应用?
HaloSense系列在线余氯监测仪可以配备自动清洗装置。用户可定义冲洗的时间间隔,6个月无须维护。自动清洗装置在食品、纸浆和造纸中特别有用,在许多可能会在样品中沉积固体的应用中也很有用。更多详情请点击。
pH补偿
对于一些pH值较高且变化比较大的应用,pH补偿可以提高分析仪的准确度。为了有效地补偿pH值,必须使用最高质量的pH传感器和对pH值变化敏感性较低的余氯传感器,例如HaloSense系列的传感器。
这张图显示的是一只真实的HaloSense传感器的误差。当样品的余氯浓度为1ppm时,样品的pH值从9变成大于10,再下降到7.5,然后又回来。该图显示,绝大多数应用根本不需要pH值补偿,对于那些需要补偿的应用,HaloSense传感器是最合适的传感器。
通信
CRONOS®、CRIUS®余氯和总氯投加控制器可以配备四个PID过程控制选项,数据记录,继电器输出,模拟输出和串行通信,如以太网,Modbus和Profibus。仪表的远程监控(包括对所有控制选项的远程访问)可以通过GPRS和局域网访问互联网。事实上,CRIUS®HaloSense分析仪有你想要的所有选项,而CRONOSM®提供了一个低成本的选择,性价比很高!
控制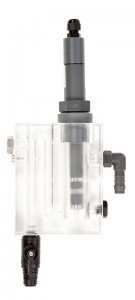 Residual Chlorine Analyser
Pi的每个余氯分析仪都有能力成为一个非常强大的加氯控制器。控制器可以有多个控制通道,可以使用化学控制(通常继电器(开关) 在余氯浓度过低时打开投加,余氯浓度过高时关闭投加)或PID控制。
PID对传感器信号的数学处理后,给出一个输出来控制水泵并管理水中余氯的恒定水平。所有的功能都是可调的,还有内置的安全功能,如过馈保护。有关PID控制的讨论,请参阅这里的技术说明。
Pi的氯控制器已应用于许多控制应用,如巴氏杀菌、水处理、冷却塔、游泳池等。
| Document | Type | Size |
| --- | --- | --- |
| | Brochure | 676kB |
| | Technical Note | 516kB |
| | Technical Note | 590kB |
| | Technical Note | 650kB |
| | Technical Note | 655kB |
| | Technical Note | 662kB |
| | Technical Note | 551kB |
| | Technical Note | 712kB |
| | Technical Note | 607kB |
| | Brochure | 712kB |
| | Brochure | 733kB |
| | Brochure | 669kB |
| | Technical Note | 649kB |
| | Technical Note | 593kB |
| | Brochure | 411kB |
| | Technical Note | 316kB |
当氯作为消毒剂加入水中时,它会氧化水中的物质,从而杀死有机物。"余氯"是我们测量的这个过程最后剩下的氯。
什么是'游离性'余氯?
游离氯是指水中以HOCl或OCl–的形式存在的氯。
当往pH4-11的水中加入氯时
Cl2 + OH– ↔ HOCl + Cl–
HOCl ↔ OCl– + H+
所以如果把氯加到水里,就得到了HOCl(次氯酸)和OCl -(次氯酸根),它们合在一起就是"游离氯"。
什么是'化合性'余氯?
如果水中同时含有氨和次氯酸根,就会发生反应生成一氯胺。
NH3 + OCl– → NH2Cl + OH–
在酸性溶液中,一氯胺转化成三氯胺。
2NH2Cl + H+ → NHCl2 + NH4+
3NHCl2 + H+ → 2NCl3 + NH4+
在氯浓度较低的溶液中,可以闻到的通常是氯胺,而不是"氯"。
以上三种氯胺被统称为"化合性余氯"。
什么是"总氯"?
传感器的量程有哪几种?
余氯和总氯传感器的量程包括:0.005-0.5ppm (总氯), 0.005-2ppm, 0.05-5ppm, 0.05-10ppm, 0.05-20ppm and 0.5-200ppm (余氯)
我可以测量海水中的氯吗?
是的,但是当你向海水中加入氯时,会有一个置换反应生成残留的溴。有关更多信息,请参阅我们关于测量海水中氯的技术说明。
我多久校准一次我的传感器?
这取决于应用。在线氯传感器的漂移非常低,所以有的每周校准一次,有的每月校准一次,甚至每六个月校准一次。
多久换一次电解液?
多久换一次膜片?
pH值的改变会影响读数吗?
干扰因子都有什么?
臭氧和二氧化氯都会干扰测量。更多信息,
请点击这里
。
膜片和电解质的保质期是多少?
传感器是什么材料做的?
PVC-U,不锈钢,亲水膜,PEEK (总氯和零余氯)和硅酮。
适应的温度范围是?
0°C – 45°C (余氯和总氯), 0°C – 40°C (零余氯).
为什么不需要零点校正?
传感器一直在正电势下工作,所以与之相比,零点上的任何漂移都是可以忽略的,所以不需要零点校正。
温度变化会有什么影响?
没影响。该传感器有一个热敏电阻,可以测量温度并进行自动补偿。
用什么来校准传感器?
使用手持设备。可以从不同的供应商处获得,几乎所有的供应商都使用比色DPD来测定样品中的氯浓度。
当我取样做DPD测试时,我需要考虑什么?
首先从仪器所在处取样品。第二,不要在浓度变化快的时候取样品,第三,使用质量好的手持式仪器,认真按照说明书操作。
我试着校准,但分析仪说样品不稳定?
在校准过程中,分析仪观察来自探头的信号的稳定性(变化率),如果它在倒计时中变化超过10%,则分析器阻止校准,以避免校准程序引入错误。
Focus Ons are a series of short articles distributed by email providing technical information regarding instrumentation, process measurement in potable, waste, process and pool waters. If you would like to join the mailing list, please contact us.
Focus On… Seawater Chlorination
Did you know that when you dose chlorine into seawater it is bromine that does the disinfection?
Did you know that DPD 1 measures free chlorine or total bromine and not free bromine?
Chlorination Chemistry of Seawater
The chemistry of the chlorination of seawater is more complex than many people realise and although the measurement of chlorine residuals is possible in seawater (and therefore automatic control of chlorine dosing), better results will be obtained if this is fully understood.
Is it Chlorine or is it Bromine?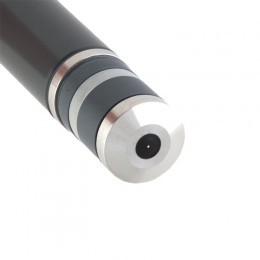 Chlorine Analyser Sensor Tip
Seawater contains about 70 ppm dissolved bromides most of which are sodium bromide. When you put chlorine in water it displaces (because it's more reactive) the bromine from the bromide and becomes a chloride. So for up to about 70 ppm of total chlorine dosed what you actually have in the water is free bromine and combined bromine (NOT free and combined chlorine) so it is the total bromine that actually does the disinfection [1]. So why does everyone call it chlorination when technically it is bromination? Mainly because most people don't know this interesting bit of chemistry. So what? Normally it makes no difference at all as bromine is an effective disinfectant, however there can be a lot of confusion when it comes to monitoring residuals and controlling dosing. Choosing the correct sensor to control the dosing is crucial as is choosing the correct DPD test.
Pi offer a specialist range of seawater chlorination controllers, but to choose the right controller we need to understand the chemistry going on. A technical note on the same subject is available here.
Free Chlorine and Total Bromine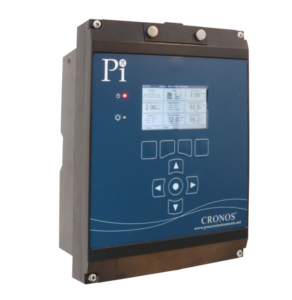 Due to the confusion on what is being measured it is easy for an engineer to specify the wrong equipment and calibrate it incorrectly. For example, it is common for a free chlorine sensor to be specified for seawater chlorination control. Most electrochemical free chlorine sensors will react to free bromine (not all so be careful!) but this isn't necessarily what you need for bromination control. Most authors agree that whilst the disinfection capability between free chlorine and combined chlorine differs, when it comes to free bromine and combined bromine, both forms of the chemical are equally good at disinfection so a better measurement would be total bromine, which requires a total bromine sensor.
DPD and Seawater Chlorination
To add to this already confusing environment we need to look at calibrating online sensors or using handheld photometers to track the residual. DPD is used extensively to measure chlorine residuals and it also reacts to bromine so can be used for both, however, DPD 1 measures FREE chlorine or TOTAL bromine. The situation can therefore arise where you have an online instrument such as a CRONOS® or CRIUS® specified as a free chlorine, actually measuring free bromine but calibrated as a total bromine (against DPD 1)! Typically the best results are obtained by specifying a total bromine (total chlorine) sensor and calibrating it using DPD 1. That, however, isn't the end of the story! When specifying an analyser it is crucial that we suppliers know that it is for use with seawater because the physical and chemical make-up of seawater is very different to potable or process water and this can affect what we would supply to customers.
The effect of Salinity on Membrane Sensors
It is crucial for us to know if you are going to use a Pi sensor in seawater so we can provide you with a saltier electrolyte. Osmosis means that water moves from a low solute concentration to a higher solute concentration across a semi-permeable membrane. The electrolyte in our sensors is saltier than potable or process water so osmosis forces water into the end of the sensor, which the sensor is designed to cope with, however, with seawater the process is reversed and the water in the electrolyte can be forced out of the sensor into the sample. To solve the problem we supply electrolyte especially designed for seawater, with a higher salinity.
Estuarine Waters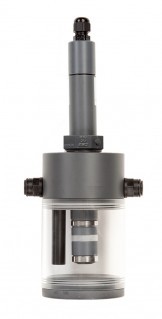 Residual Chlorine Analyser
Many seawater chlorination applications are estuarine in nature (partly seawater and partly fresh water) and it is the degree of dilution which determines which sensor and which electrolyte you should use. Seawater has approximately 70 ppm bromides and so up to 70 ppm chlorine the replacement will be 100%. If the seawater is 50% fresh water then up to 35 ppm chlorine will give 100% displacement. For example, if we looked at a 2 ppm residual then the water could be only 3% seawater and 97% fresh water and you would still be measuring bromine, so a total bromine sensor calibrated with DPD 1 would be appropriate. For any water that is contaminated with seawater the seawater electrolyte is likely to be the most appropriate.
The Solution!
If all of this is too much to take in and remember, then don't worry! Just remember to talk to Pi for any online chlorination application and we will do the rest… guaranteed!
References
[1]. White's Handbook of Chlorination and Alternative Disinfectants, 5th Edition, Wiley – page 874, pages 122-129.
Focus On… ppm Chlorine vs. ORP measurement
You probably know that some instruments use ORP to control chlorine dosing and others use ppm chlorine sensors but…
… did you know that ORP over about 3 ppm won't work?
… did you know that swimming pools in the USA use ORP and in Europe use ppm chlorine sensors?
… did you know that the ORP of towns water can vary a great deal?
In the USA nearly all pools and spas use ORP sensors to control their chlorine dose, yet conversely in the UK and Western Europe most ORP systems have been replaced with systems that measure the concentration of free chlorine in water. Pi provides systems that utilise either or both technologies.
ORP
Oxidation reduction potential (ORP or REDOX) sensors, measure the tendency of water to gain or lose electrons from anything in the water. The more positive a reading from an ORP the greater the tendency the water has to oxidise (gain electrons from) organisms or other material in the water, thereby killing or destroying them.
Why do so many pools in the USA use ORP?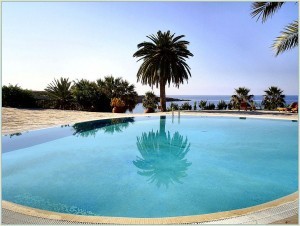 Swimming Pool
When chlorine is dosed into a pool it form OCl– and HOCl. Disinfection is largely done by the HOCl and ORP responds to the concentration of HOCl in the water, which makes it a good measure of the tendency of the chlorine in the water to kill bugs. Despite this, ORP is a secondary measure of HOCl and is affected by a multitude of other factors, some of which will be touched on below. The main attractions of ORP are; low purchase cost, no calibration and little or no maintenance.
What are the problems with ORP sensors?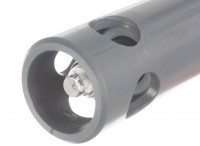 ORP Sensor
Unfortunately, what ORP sensors measure is tendency and not capacity, i.e. ORP measures the likelihood or the ability of the water to kill bugs, but not how many bugs that water can kill, a subtle but very important difference. A sample with high ORP may be able to kill a small number of bugs very quickly but then not be able to kill future pollution. What's more, although chlorine affects ORP very strongly it is not the only variable involved. The pH of water affects ORP directly and also affects the concentration ratio of OCl–/HOCl, the two main disinfectant components. A lower pH (higher acidity) will cause an increase in the relative concentrations of HOCl causing an increase in ORP.
Perhaps the biggest issue with ORP is that the ORP readings on water with no chlorine in it will be different depending on the source of that water. This means that an ORP of 750mV in one part of the country is not the same chlorine concentration as 750mV in another part of the country. Also the ORP response to HOCl is not linear and increasing residual chlorine above 3 ppm has little effect on ORP readings making control above 3 ppm extremely difficult. These issues typically lead to overdosing the water with chlorine, in order to compensate for these effects. This can be seen very clearly in US pools which often have more than 2 ppm of chlorine compared to European pools which typically operate around 0.8-1.5 ppm (The World Health Organisation recommends 1 ppm residual).
ppm Chlorine
These sensors use electrochemistry to measure the free chlorine concentration directly. They tend to be slightly more expensive than an ORP sensor, but are more reproducible and precise, and therefore tend to give better control (and therefore reduced chemical cost). They are specific to free chlorine (the disinfectant) and can be easily calibrated using a DPD test for free chlorine. Whilst the capital cost for a ppm chlorine sensor is higher, total cost of ownership tends to be lower as ORP sensors are typically replaced every year and ppm sensors last for ten years or more.
Problems with ppm Chlorine sensors
A ppm sensor measures the capacity of water to kill organisms, the only problem is that it doesn't measure how fast the bugs are killed, a variable largely down to pH. There are two different types of ppm sensors. The first measure only HOCl, and have very similar problems to ORP sensors. The other type of sensor, in pHs below 8.0, measure both HOCl and OCl–. Pi only recommends the use of sensors that (for use in pools) are independent of pH, and the use of pH control that is independent of chlorine dosage. This leads to tighter control of both pH and free chlorine meaning chlorine residuals can be more tightly controlled and reduced, which in turn leads to lower costs and a more pleasant bathing experience.
Conclusion
Advantages
Disadvantages

ORP Sensors

Simple (no calibration)
Inexpensive

ORP Sensors

Doesn't measure disinfection capacity
Affected more by pH than by free chlorine
Non-Linear
Not reproducible (not the same from site to site)
Affected by changing water chemistry
Affected by all oxidants
Using ORP control normally leads to higher residuals and less stable control

ppm Sensors

Measure free chlorine directly
Results comparable across different sites
Linear response
Only affected by free chlorine
Using a ppm sensors leads to lower residuals, more stable control and better swimmer experiences

ppm Sensors

Requires calibration
More expensive – but not much
More maintenance – but not much
Focus On… Zero Chlorine
If you've ever had an application that uses Reverse Osmosis (RO), such as in a renal ward, you probably understand the damaging effect that chlorine can have on RO membranes, but did you know that…… Pi has a security system that can alert you to any free chlorine present and can actually prevent the contaminated water from reaching the membranes at all?
The most common source of water for corporate buildings, hospitals and industrial processes, is standard mains water. This water typically contains chlorine, added by municipal water companies, for its disinfection properties. For any system that requires RO membranes, if the water source is mains water, it is common to have carbon filters positioned before the membranes. The carbon filters are designed to remove any chemicals in the water that might be damaging to the RO membranes, including chlorine.
Our HaloSense Zero chlorine controller measures the water coming out of the carbon filters before it reaches the RO membranes. Any free chlorine breakthrough from the carbon filters is detected by the system, which will set off an alarm and can also be configured to automatically shut off valves to prevent the contaminated water from reaching the RO membranes.
The HaloSense Zero effectively acts as a security measure to ensure that if there is a breakthrough of chlorine, the system can be shut down to prevent damage to the RO membranes. This can help to extend the lifetime of the expensive RO membranes and save the customer money.
The removal of chlorine is even more important in hospital systems where the water is supplied to renal wards. In this case the HaloSense Zero chlorine analyser not only protects the RO membranes, but it can also help to save lives. If any chlorine was to break through the carbon filters and make it past the RO membranes as well, it could endanger the lives of renal patients in the hospital. The HaloSense Zero chlorine system is a fantastic safety feature, providing an extra line of defence against the potential hazard.
The HaloSense Zero comprises of a sensor designed to measure the absence of chlorine connected to a CRONOS® or CRIUS® controller. The sensor can detect even very low levels of free chlorine, while the CRONOS® or CRIUS® controller acts as the brains of the system, interpreting data from the sensor. In the event that any free chlorine is detected, the analyser will send an alarm signal and can automatically shut off valves to prevent chlorine from reaching the RO membranes.
So why aren't you using this system already? Are there any catches?
The only catch is that the HaloSense Zero can't measure combined chlorines in the water. Typical mains water in most countries contains a mixture of free chlorine and combined chlorine which is what the HaloSense Zero is designed to detect and help protect the RO membranes against.
The ingenious HaloSense Zero chlorine analyser will even periodically check the responsiveness of the sensor automatically, to ensure that the sensor is still reacting correctly when free chlorine is present. It does this by switching between the post-carbon filter water and chlorinated mains water using a 3-way solenoid valve controlled by a programmed timer.
If you are using a carbon filter before your RO membranes to remove the chlorine, probably the only reason you aren't using this system already is simply that you haven't heard of it before. The Pi HaloSense Zero chlorine system is just one of Pi's innovative solutions to water treatment problems.
Focus On… Calibrating Sensors Using a DPD Kit
You probably know that most chlorine, ozone and chlorine dioxide analysers are calibrated using hand held DPD kits but…
… did you know that DPD can't tell you when you have no residual?
… did you know that errors on DPD performance can be up to ± 100%?
… did you know that a significant number of service calls received by Pi relate to poor calibration?
DPD (N.N-diethyl-p-phenylenediamine) is a chemical that when mixed with water containing an oxidant, changes colour depending on the concentration of the oxidant present. A handheld colourimeter measures light passing through the coloured solution. The absorption of that light by the liquid gives a concentration value. It is usually used to check concentration of, for example, free chlorine, total chlorine, ozone and chlorine dioxide etc. in water.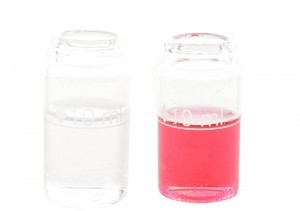 DPD vials containing water samples with oxidant (right) and without oxidant (left)
When the DPD kit gives a value, it is often used to calibrate online instruments……and that is where Pi comes in!
As a manufacturer of online instruments we have to understand DPD in order to help our customers when they have problems calibrating their online monitors.
This Focus On will look at:
The limitations of DPD (turbidity, zero oxidant, bleaching, pH and interferents).
Minimising DPD measurement error (sampling, alignment and cleaning).
Things to look out for (low concentrations, pink colour, stained glass).
Little known chemistry (measuring bromine, chlorite versus chlorine dioxide).
Rinse and repeat: is it really worth repeating my measurement?
What are the limitations of DPD?
DPD cannot measure zero oxidant well.
DPD works using the absorption of light, and turbidity in the sample will give a positive reading. This means if there is no oxidant in the sample, any turbidity introduced to the sample after 'zero' such as undissolved tablet or powder will cause the DPD test kit to give a small reading, this is why…
DPD cannot measure below approximately 0.05 ppm.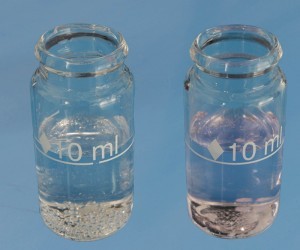 DPD vials containing water samples with (right) and without (left) trace amount of oxidant
If you suspect there is zero oxidant in your sample, hold the vial up to a white surface. If you cannot see any trace of pink colour, it is likely any reading you are getting is from the unreacted DPD tablet.
DPD cannot measure free chlorine above 6 ppm
(and won't always give a 'high concentration' reading error).
Many people are unaware that past a certain level of oxidant, DPD will not form its characteristic pink colour, and instead will 'bleach' to form a clear solution. This can lead people to think there is little or no oxidant in their water, when in fact there is so much that it is bleaching their DPD. Be on the lookout for a flash of pink when the tablet or powder is added if you suspect your sample is being bleached. NB. special kits and reagents are available for measuring oxidant above 6 ppm.
DPD cannot measure in extremes of alkalinity or pH.
DPD tablets, powdered pillows, and drops contain buffers that will change the pH of your solution in order to facilitate DPD reacting with your oxidant. There is only so much buffering capability in the powder or tablet, and if your sample has an extreme of pH or alkalinity this could affect the concentration reading from the DPD handset.
DPD cannot distinguish between oxidants such as:
chlorine, chlorine dioxide, chlorite, ozone, organochlorides, bromine and more, meaning interferents are a big problem.
DPD is a fantastic chemical, in that it is very versatile as a colouring agent, which is how it gives the oxidant the colour that we measure. This versatility does come at a price, DPD is not very specific as an analysis tool, and so if other chemicals are present in the sample, they can interfere with the reading, giving an inaccurate result. Common interferents include chlorine dioxide (for chlorine measurement, and vice versa), sodium chlorite, ozone, organochloramines, peroxides, and many more.
DPD cannot distinguish between colour and turbidity.
Any undissolved solids, including unreacted DPD tablet, will affect the reading. Sample turbidity should be accounted for in the zero measurement. If the zero measurement has a high turbidity, this will affect the sensitivity of the colourimeter, due to the large correction it must perform to account for absorption by undissolved solids. Allowing any solids in the sample several seconds to settle after mixing is the best way to counteract this.
Minimising DPD measurement error
Here is an easy to read, printable checklist to ensure accurate DPD readings every time.
Things to look out for
When was the last time your DPD was calibrated?
Like all measurement devices, handheld DPD colourimeters can drift over time, and need to be calibrated. Check your device manual for how often it should be calibrated, if you can't remember the last time it was calibrated, chances are it needs doing again!
Stained Glass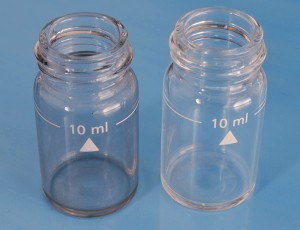 DPD vials with staining (left) and without staining (right)
The pink solution formed after DPD tests can leave a residue behind on the glass, which will affect the DPD reading. This residue can be easily cleaned off using what is in your DPD kit.
Tap water
If you use normal tap water to wash out vials, droplets left behind can affect your reading due to the residual chlorine in drinking water. It is best (but not always practical) to use deionised water to wash out your vials, but if this isn't available (deonised water can be purchased as car battery top up water from any car parts supplier) then you can use cooled boiled tap water, as boiling gets rid of any chlorine. If not then simply make sure the vials are perfectly dry before use.
Little Known Chemistry
DPD has a wide range of interferents. This means recurrent problems can sometimes be caused by the chemical makeup of the sample. For example, chlorite (ClO2–) and chlorine dioxide both affect DPD, but only chlorine dioxide is measured by most chlorine dioxide amperometric sensors.
DPD can be used to track bromine, but DPD No.1 tablets measure FREE chlorine or TOTAL bromine. As combined bromine is just as effective a disinfectant as free bromine, this generally doesn't pose too much of a problem, however some amperometric sensors measure free bromine, and cannot be calibrated using DPD No.1 tablets. For more information on measuring bromine, or chlorine in seawater, please see Pi's technical note on Seawater Chlorination.
Rinse and repeat
How important is it to repeat my DPD measurement? Isn't it a waste of time?
A sensor is only as good as its last calibration, and the sensor will be as accurate as you calibrate it to be. If you need your sensor for tight process control, such as a pool or dosing controller, then it is essential to repeat the DPD test at least twice, if not more. The reason it's important to repeat the test is mainly due to human error, but variation in DPD tablets has been known, or it could be a slight concentration spike that you happened to pick up in your sample. With each repetition these circumstances become less and less likely, giving you more confidence in the value you use to calibrate your analyser.
Pi recommends the following routine for calibration:
Perform a DPD test, and compare the reading to your analyser.
Is the reading within 10% of your analyser? If yes, leave the analyser alone.
If the reading is not within 10%, repeat the DPD test.
Is the second test within 10% of the first test? If yes, calibrate your instrument to this reading. If not, keep repeating the DPD tests until 2 consecutive tests are within 10%, then calibrate the machine to this reading.
Focus On… Probe Fouling
Many different sites ranging across the whole water industry have a daily struggle to keep instrumentation functioning correctly due to fouling. However did you know that…
… self cleaning and self flushing systems are now available from Process Instruments for most types of sensors?
… these fouling removal systems can extend the life of sensors and drastically reduce maintenance regimes?
… Pi's self cleaning/flushing systems are affordable, simple and trouble free by design?
What is the problem?
Sensor Fouling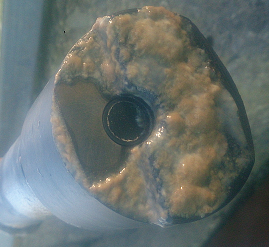 Whatever the process being monitored is, there is often something in the sample water capable of fouling a sensor, and therefore causing erroneous results. The obvious solution to this problem is to clean the sensor, but how regular should inspection and cleaning programs be for each piece of instrumentation? Too regular and the inspection and cleaning regime is time consuming and unnecessarily costly. Not often enough and the instrumentation will give false results and probably fail prematurely.
What is the solution?
Process Instruments' Autoclean and Autoflush Systems
Simple, reliable and easy to maintain, Process Instruments' Autoclean/Autoflush systems are an alternative to mechanical cleaning mechanisms which can clog and break. By regularly spraying the sensor/probe with clean water or air, the sensor remains clean and free from fouling for extended periods of time. The sensor cleaning cycle is activated by Pi's controller for a user selectable length of time and frequency so that no matter how dirty the application, the probe remains clean. With no moving parts in the sensor body or in the cleaning attachment there is nothing to replace or check other than a simple valve positioned in an easy to reach location.
Pi's Autoclean and Autoflush systems can give trouble free and fouling free functioning of sensors for weeks, if not months, at a time.
A solution for each application
Autoclean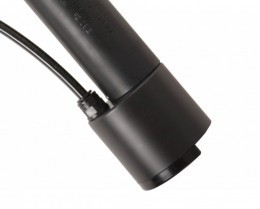 This option can be added to our pH, ORP, Turbidity, Suspended Solids and Dissolved Oxygen (DO) sensors. Consisting of an end cap to direct the flow of clean water (or air for a DO sensor) across the face of the sensor blasting any dirt away. The cleaning is controlled by a single valve positioned in an easily accessible location.
Autoverify
If using air to clean a DO sensor the system can also automatically verify that the sensor is still responding correctly, removing any need to remove the sensor from the sample for months at a time.
Autoflush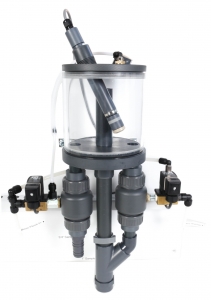 For sensors that require flow cell mounting like Chlorine, Ozone and Chlorine Dioxide, an Autoflush system has inbuilt valves which automatically start/stop the sample flow and control the flow of clean water past the probe. The user can set the flushing interval and duration to keep the flow cell and sensor clear from fouling. For particularly dirty or stubborn contaminants, warm water can be used as the flush water to aid cleaning.
With the above options, whatever the application or parameter being measured, Process Instruments will be able to provide a monitoring system that will not only be accurate, precise and long lasting but that will also remain free from fouling and save the operator both time and money.