Process Instruments公司的CRIUS®控制器可以通过局域网或GPRS调制解调器进行远程访问。
这种功能是独特的,因为它:
不仅提供双向通信允许数据的下载,而且可以上传新的设置,如控制点、PID控制等等.

提供点对点通信,控制器无须登录过渡网站,实现与互联网直接通信。

电子邮件报警和每日电子邮件可以发送到不限数量的电子邮件地址。

每日电子邮件有前24小时的数据,所以不必再下载数据就可以到达你的收件箱。
Remote Access 远方控制 演示
为了让您试用CRIUS®控制器的远程访问功能,Pi公司在我们位于英国兰开夏郡伯恩利的工厂里安装了一台演示用的仪器。它可以被设置为各种分析仪,包括余氯分析仪,游泳池控制器或pH分析仪等其他用途。如果您希望看看特定的配置,那么请联系我们的销售人员,他们将安排重新为您配置。
点击以下链接将进入门户:
注意,这些分析仪是通过移动网络访问的,信号强度可能不同。此外,一次只能一个人连接到这些分析仪,所以如果你的连接有问题,等待一段时间后再尝试,因为其他人可能正在使用。
连接完成后,系统将提示您输入电子邮件和密码,输入电子邮件"public@pi.net"和密码"12345678"。
建议您一次只点击一个按钮,并等待页面下载完成后再点击按钮,将会获得最佳效果。请随意在仪器上操作(不要忘记您连接的是实际的仪器,而不是模拟的页面)。
这台仪器会定期重置,因此不会保存任何数据,但建议您在测试结束后删除输入的电话号码或电子邮件地址。
请注意,Remote Access远程访问与Internet Explorer浏览器不兼容。
Download data
From this link you can download a sample data file.
Focus Ons are a series of short articles distributed by email providing technical information regarding instrumentation, process measurement in potable, waste, process and pool waters. If you would like to join the mailing list, please contact us.
You probably know that Process Instruments offers a cloud based remote access service for our CRIUS analyser, but did you know that…
…nearly everything you can do in front of the analyser you can do remotely?
…we have been working closely with our customers to bring you an even better service?
…a lot of our customers have seen the number of engineer callouts drastically reduce, saving them time and money?
Pi's sleek and modern Remote Access solution
Pi has always been a leader in developing new technology and have had a remote access system for over 10 years! The latest iteration of remote access is now a key part of our solution toolbox. Here are some of the features of our remote access: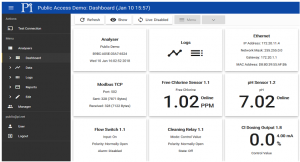 User interface – The interface mimics the analyser, making the data and other features easy to find. Anyone already familiar with the CRIUS® analyser will already be familiar with remote access. Anyone requiring training can now be trained remotely using remote access and Skype.
User control – Each user has their own customisable access rights for what they can view and change on the analysers. This is set by the 'parent' user.
Speed – The service now runs around 50 times faster than its predecessor, allowing users to connect and download the current sensor values and settings in under 30 seconds (test performed on CoagSense coagulation controller with 27 different devices such as sensors!).
Reduced data costs – By making the connection between the server and analyser more efficient, Pi has reduced the amount of data required for nearly all tasks thereby significantly reducing costs.
Customer branding – On request, Pi can brand the remote access theme to promote a customer's brand.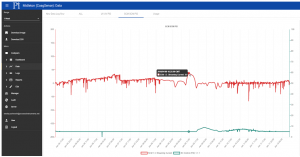 Data analysis – The graphical interface is a powerful and flexible tool for viewing your sensor data. The way we handle your analyser's data means that every single data point is stored in the cloud, allowing a user to download 3 months' worth of data with a single click.
Password reset – If a password has been lost or forgotten, a user can enter their email address into the password reset function which will then email a list of instructions on how to reset it.
Data limit – Users can now limit how much data each analyser can use per day, meaning no more unexpected data costs.
So what can Remote Access do for you?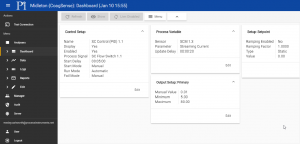 The remote access service has always been designed to save you time and money by allowing you access to the analyser and its data from anywhere in the world. Now remote access can assist as a tool in doing a lot more:
Remotely checking and changing settings for customers who may not be confident in doing so or who may not have access to the analyser.
Allowing Pi's service team to temporarily remotely connect to the analyser if customers have an issue and are unsure about how to solve it.
Automatically sending daily/weekly reports of data logs and/or status logs to users from the server (no mobile data costs from the analyser).
Easily view when maintenance is required or due on analysers, allowing users to efficiently plan which sites to visit and when.
Know when alarms activate on the unit within seconds by enabling text and/or email alerts direct from the analyser.
Tune control values to optimise dosing without the need to visit the site.
Analyse stored data to investigate incidents, explain issues or validate the process.
Save money by reducing the number of callouts and the number of miles your engineers travel!
But what about security?
When the analyser and remote access server communicate, Pi uses a 'Pre-Shared Key'. This creates a secure connection between the server and analyser. The key acts as a password and without it the analyser will not respond. The key is randomly generated in every analyser making it unique to each, and if required the key can be re-generated from the analyser. The analyser can also be connected directly to a Virtual Private Network (VPN) which blocks unwanted traffic and connections automatically and will only transfer information between the analyser and server.
How does user access work?
Each user has their own username and password. This means that what they see and what they can do can be customised so only authorised users can make changes.
How are the analysers and customers managed?
If a user creates a group, then they become that group's 'parent'. The 'parent' of a group creates the analysers and users for that group. If a user is a 'parent' to more than one group, they will also have the ability to create users that can access multiple groups from a single user account.
使用邮箱地址"public@pi.net"和密码"12345678"登录门户。
请注意,Remote Access远程访问与Internet Explorer浏览器不兼容。
选择调制解调器或以太网演示分析仪。
你会看到一个带有测量值的页面,例如pH值、余氯。这就是所谓的"控制面板"。
假设余氯的读数为0.46 mg/l,并且我们希望余氯的浓度始终低于0.45 mg/l(我们将在本教程中设置高报警)。
现在单击余氯传感器模块,然后选择Alarm 1或Alarm 2。从这个菜单,你可以设置报警。
按"编辑",然后输入以下设置,然后按"保存":
这样,当余氯的读数上升到0.45时,系统就会进入报警状态,当读数下降到0.40时,系统就会停止报警。
按"菜单"(接近页面顶部),然后选择调制解调器模块。
选择"短信提醒",并输入以下设置,然后按"保存":
选择"电话簿",然后按"编辑"。
现在使用以下格式输入您的号码:+国家代码-电话号码(例如+4455512345678),然后按"保存"。
很快你就会收到一条信息,告诉你有报警。
发送一条带有"OK"信息的文本给分析仪,确认警报。
确认警报后,按"菜单",然后在控制面板上"刷新"。
分析仪的模块现在应该是黄色的,表示警报已经被确认。
收到消息后,请记得删除您的号码(调制解调器>电话簿>编辑>删除号码>保存),并解除激活报警(余氯分析仪> 报警 1(或报警 2) >启用:取消勾选>保存)。
教程2-下载数据
下面的步骤将向您展示如何下载数据和状态日志:
使用邮箱地址"public@pi.net"和密码"12345678"登录门户。
请注意,Remote Access远程访问与Internet Explorer浏览器不兼容。
选择调制解调器或以太网演示分析仪。
选择左侧的"Data"。您可以更改左上角的数据范围。
图表下方的设置允许您更改图表上显示的信息以及显示方式。
尝试启用或禁用一些参数,并编辑参数范围。图形将实时更新。
要下载图形的图像,只需按"Download Image"。如欲下载数据,请按"Download CSV"。
要下载状态日志,选择左侧的"Logs",然后按"Download CSV"。可以在页面的左上角更改数据范围。
教程3-更改PID设置
下面的步骤将告诉你如何改变运行模式、手动值、PID设定值和增益值:
使用邮箱地址"public@pi.net"和密码"12345678"登录门户。
请注意,Remote Access远程访问与Internet Explorer浏览器不兼容。
选择调制解调器或以太网演示分析仪。
点击"Refresh"下载最新设置。
选择PID控制模块。
要更改运行模式,请选择"Control Setup",然后单击"Edit"。从这里你可以把模式改为'Off/Manual/Automatic/Semi Automatic'。选中后,按"Save"关闭设置窗口。
要更改手动值,请选择"Output Setup: Primary",然后单击"Edit"。输入新的手动值并按"Save"。
要更改PID设定值,请选择"Setup: Setpoint",然后单击"Edit"。输入新的设定值,然后按"Save"。
要更改PID增益值,请选择"Setup: PID Tuning",然后单击"Edit"。输入您的新值并按"Save"。